As is demonstrated below, Amanda and I put our digital cameras to good use in the UK and France (but not without discretion: no photos in the Louvre and few at Versailles. Who needs a hastily snapped shot of the Mona Lisa anyway? She ain't all that.)
Bridges, buildings, markets, museums, one crazy Bank Holiday, one amazing dinner in Paris under the big top—complete with trapeze artistry and daring feats on the rings....
Oui, la bonne vie!
..........
LONDON
EYE ON THE MARKET
Borough Market (across the Thames):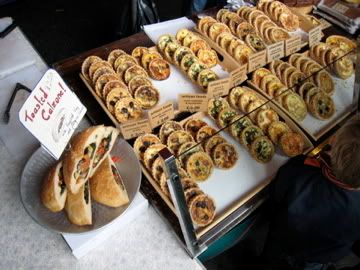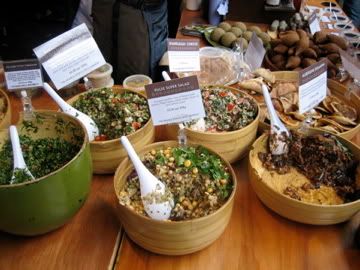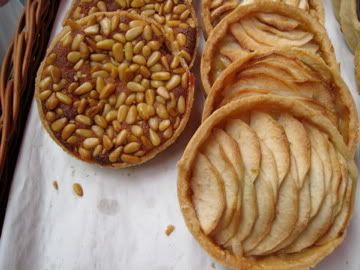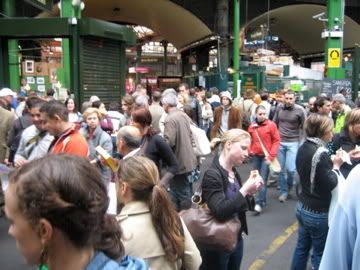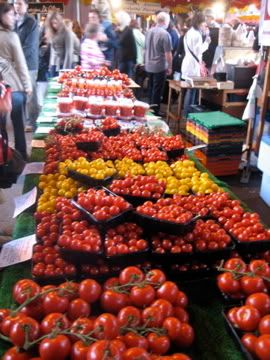 Old Spitalfields Market (in Cleo's hood):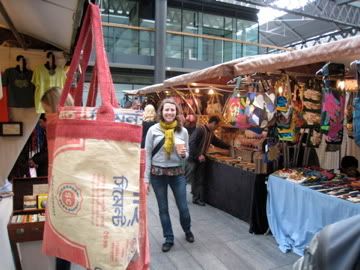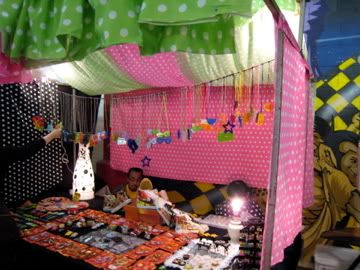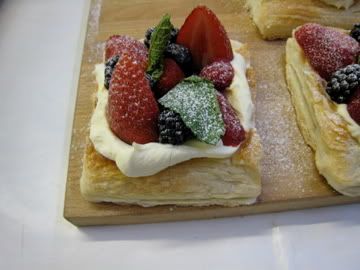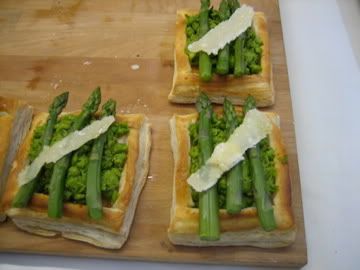 Looks like Amanda spotted a cat necklace!: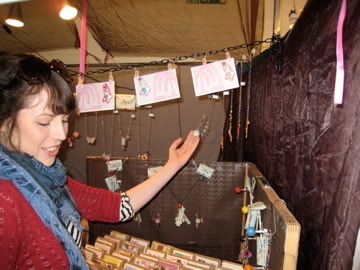 Queue for the cash machine: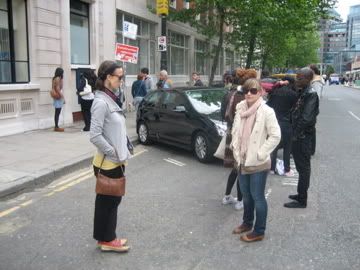 ASSORTED BUILDINGS AND LANDMARKS THAT ARE OLD
St. Paul's Cathedral...pretty rad!: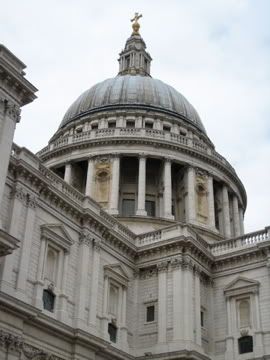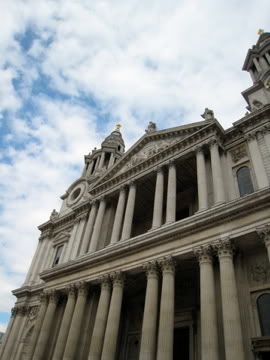 OMG! Cool! Wow! Ulimate London Tableau!: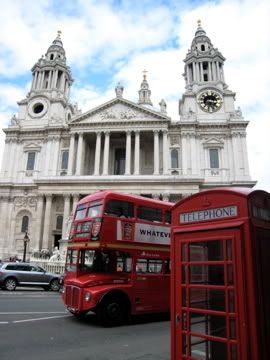 Views from the top o' St. P's: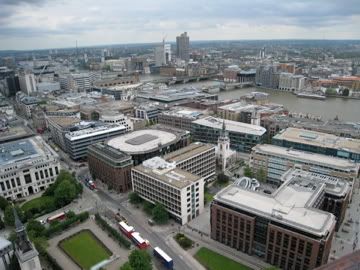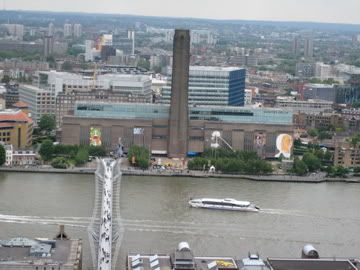 More Buildings, Kinda Oldish: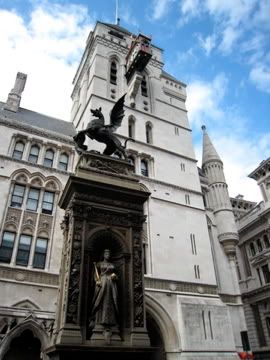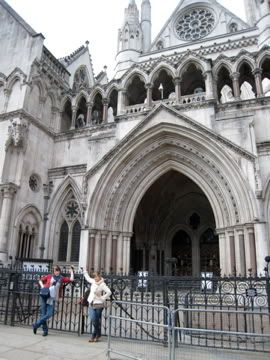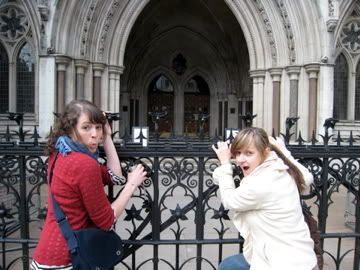 Biggest of Bens: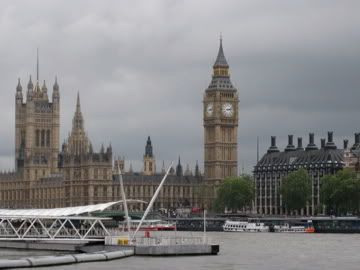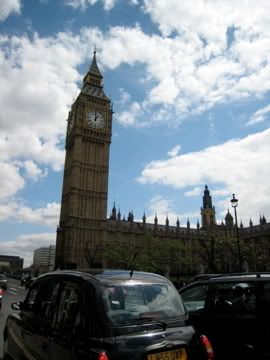 Cafe on top floor of Tate Modern: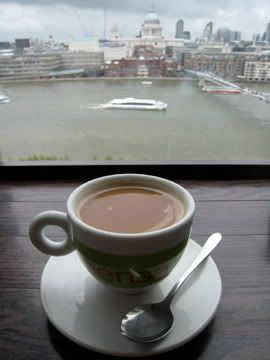 Exterior of Tate Modern (street art installation):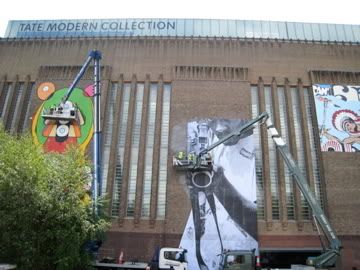 Did someone say street art? Banksy tag on a CCTV pole in East London: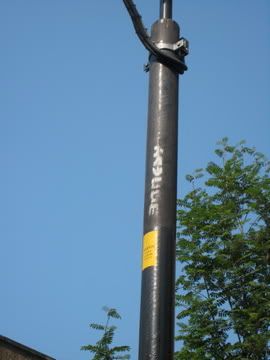 Tower of London—fortress, palace, prison. Lots of high-profile ppl died here: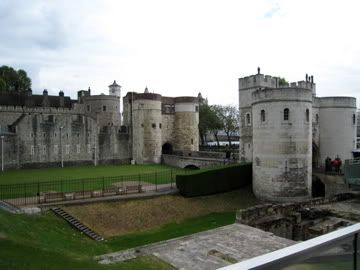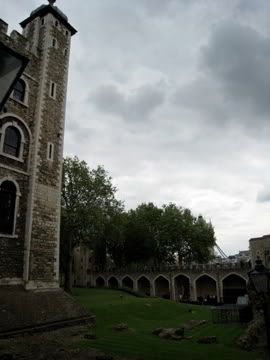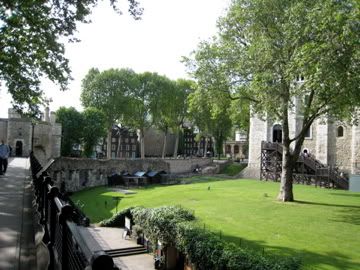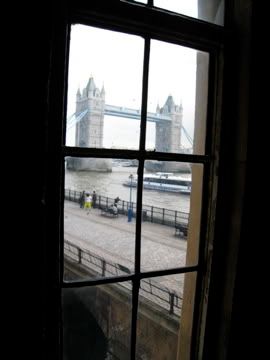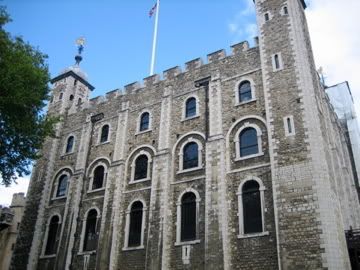 America's Next Top Model shoot in the tower where Henry VI was murdered. Tyra authorized it ahead of time—it's cool: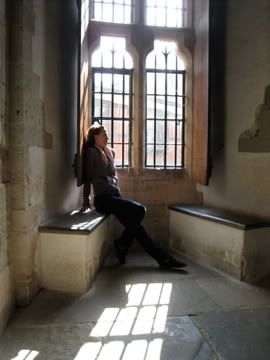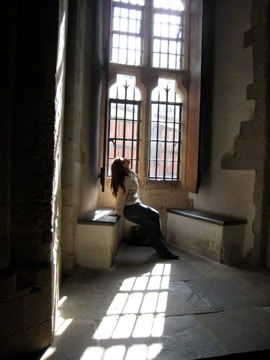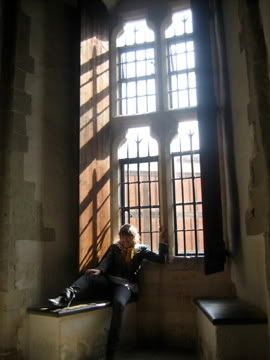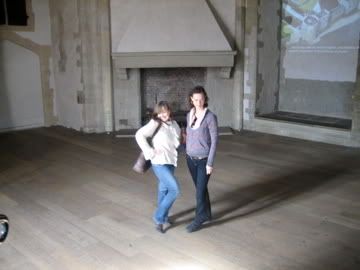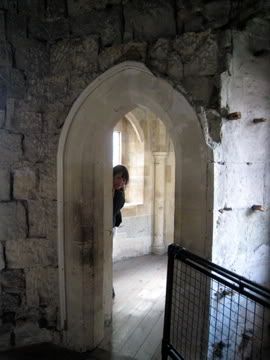 Holla at yo' Yeoman Warders and those oh-so-charming recountings of brutal executions!: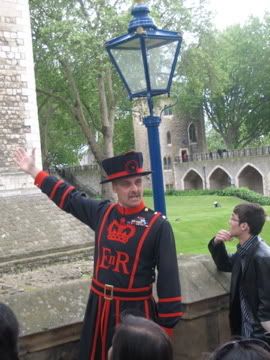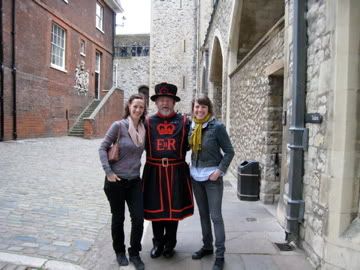 I think this is the Eiffel Tower: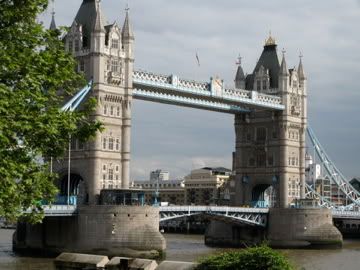 Trafalgar Square: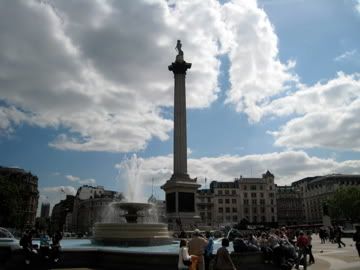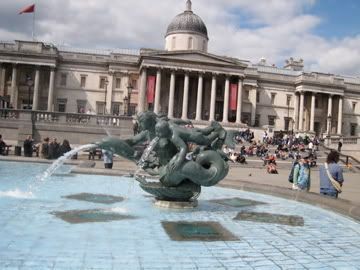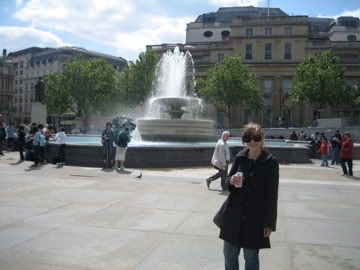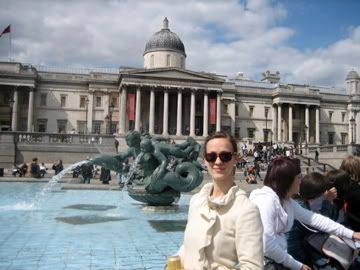 **CELEBRITY PHOTO INTERMISSION**
Dustin Hoffman and Emma Thompson filming a movie along the Thames: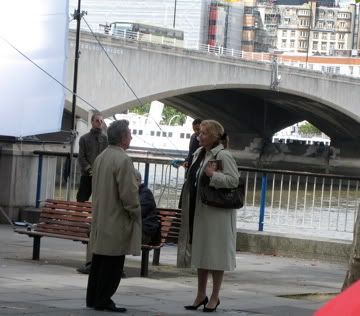 Uh-oh, D. Hoff made her cry!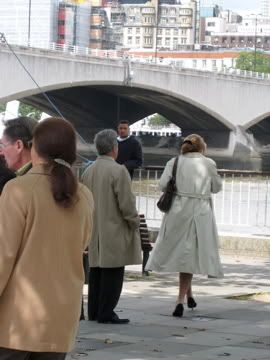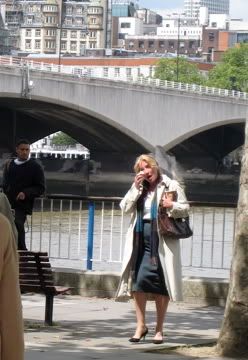 **This concludes the CELEBRITY PHOTO INTERMISSION.**
Westminster Abbey (seriously OLD):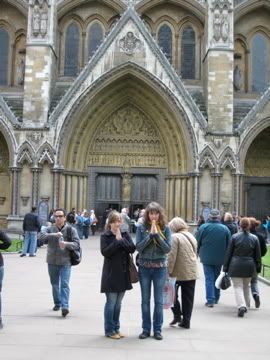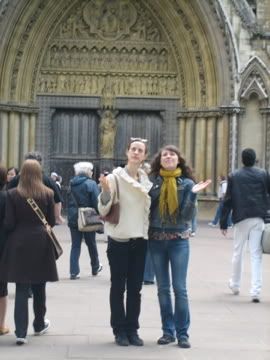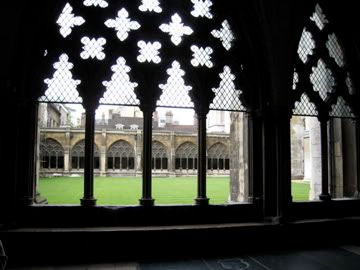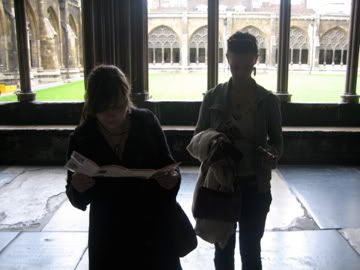 Buckingham Palace, a.k.a. Lizzie's crib: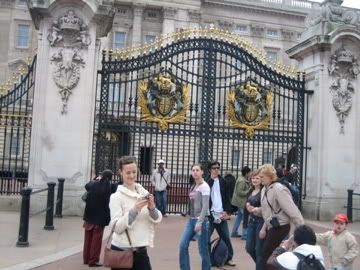 Guards guarding stuff: TOTAL SNOOZEFEST!: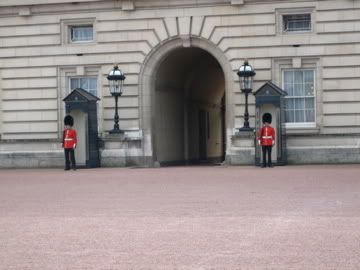 More totally authorized ANTM posing on/around the Queen's "lawn ornaments":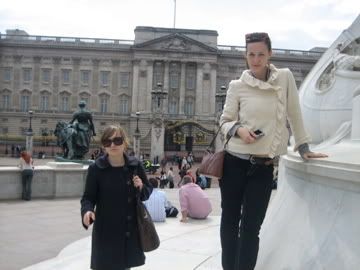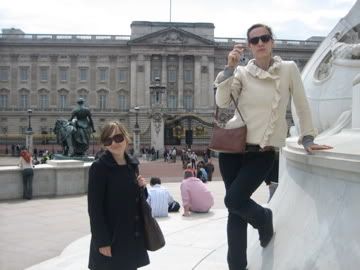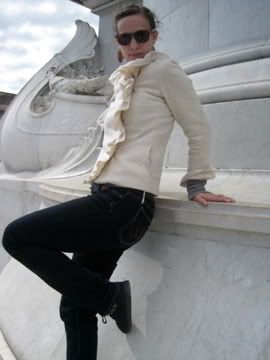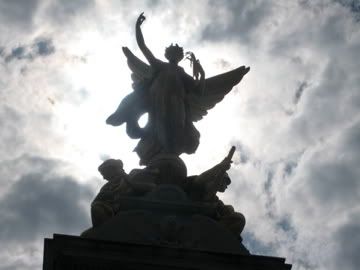 The scenic park that leads to Lizzie's palace. Amanda met a squirrel around here that changed her life.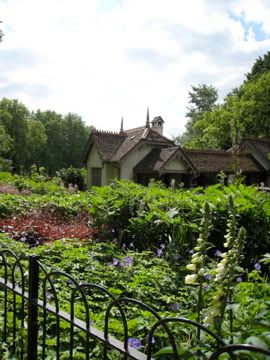 Picadilly Circus:
OH YES SHE DID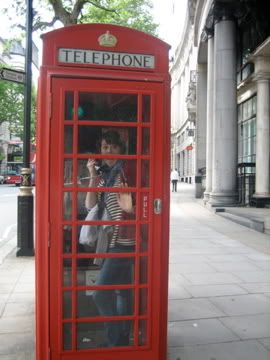 OUT AND ABOUT IN LONDON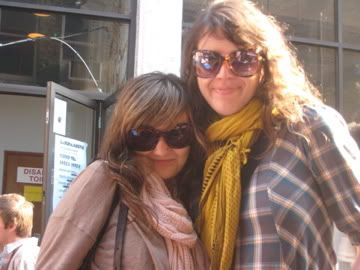 Electricity Showrooms: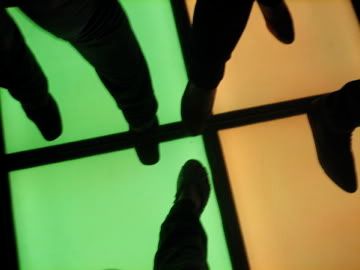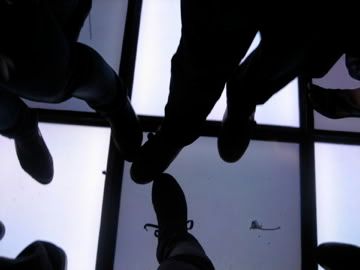 Karaoke—kids love it!: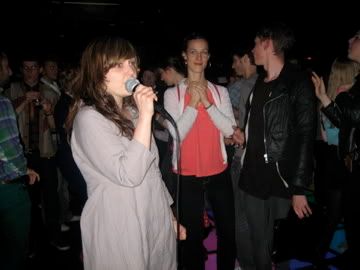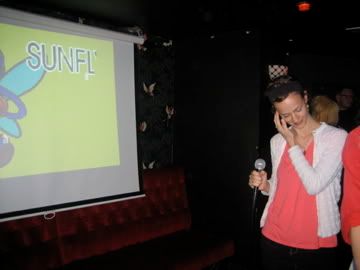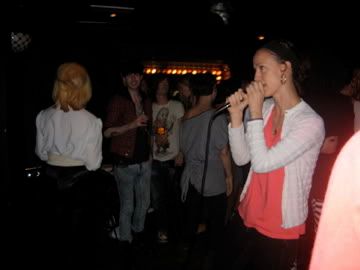 Lab: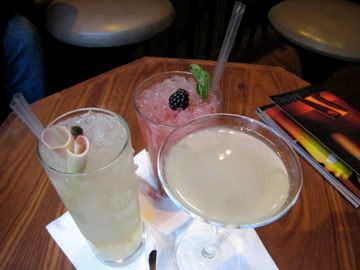 Hoxton Bar and Kitchen: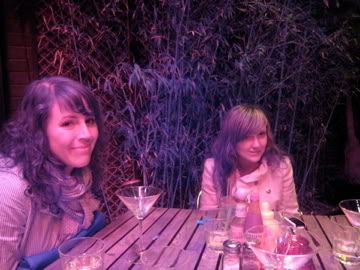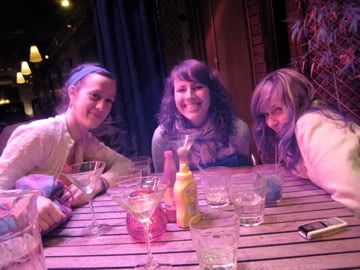 Why are London pubs so cute?
Commercial Bar (favorite!):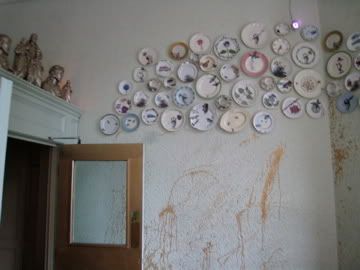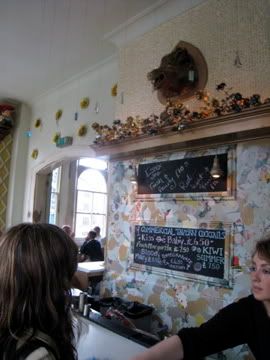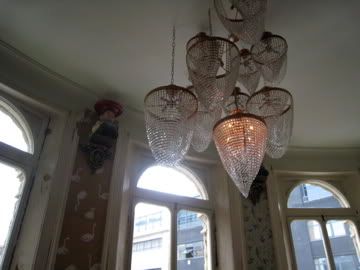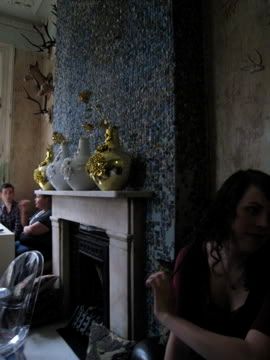 Loungelover: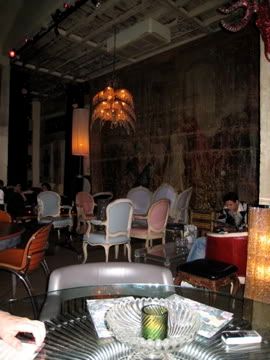 Hoxton Pony: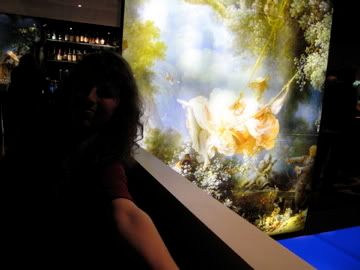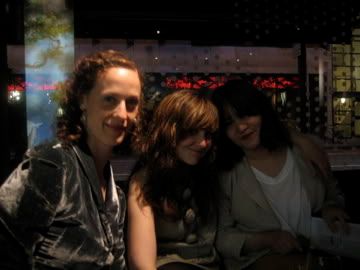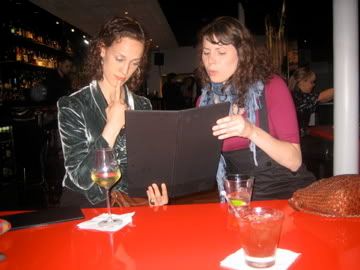 Favela Chic: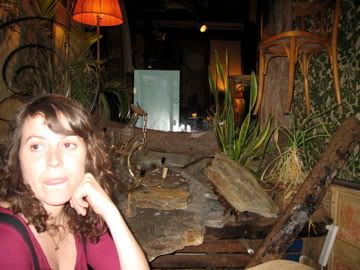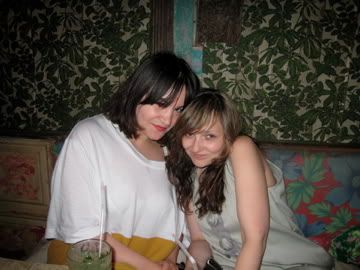 OH YES SHE DID (part 2)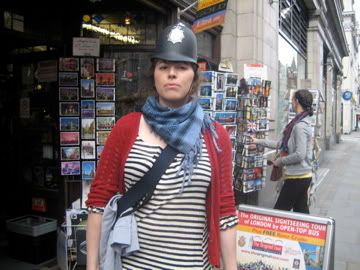 FOOD FEST 2008 (just a small sample of allllll we ate):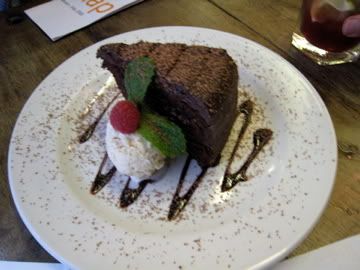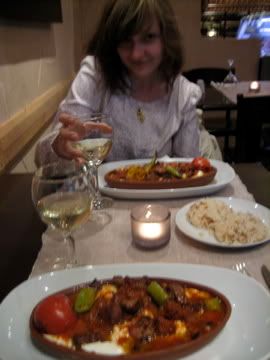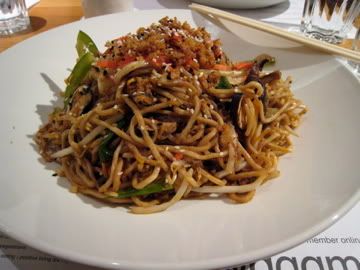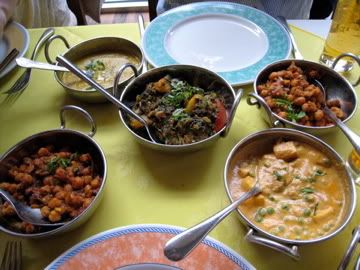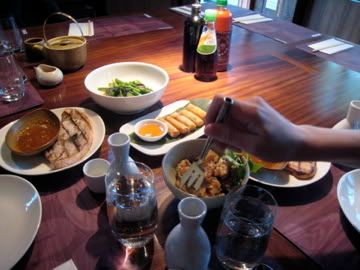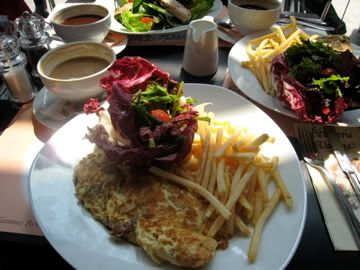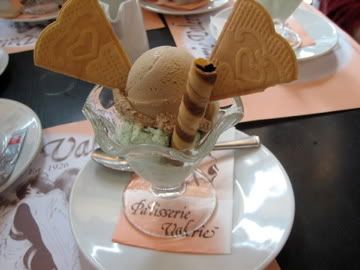 Italian ice cream was served by these dudes: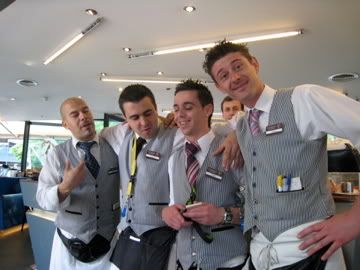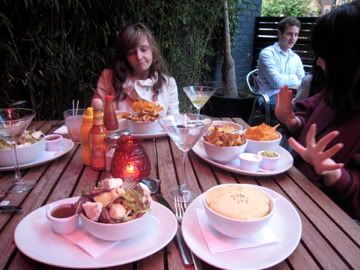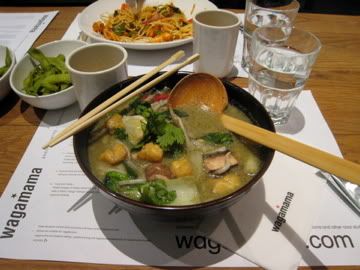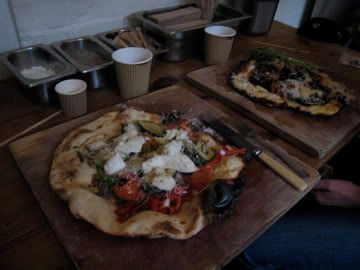 PARIS
...in keeping with the food theme: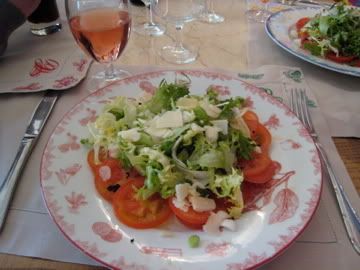 CREPES!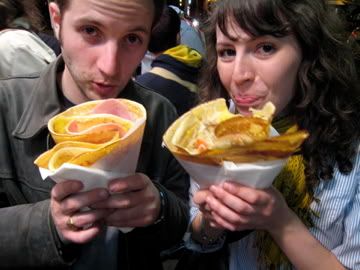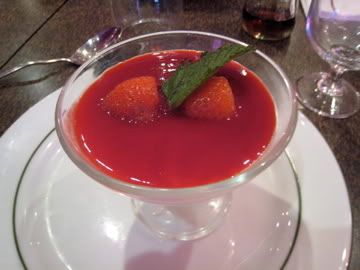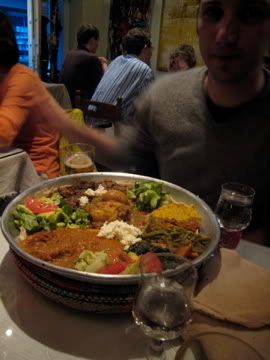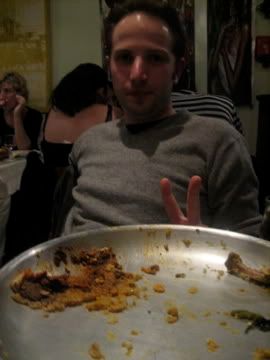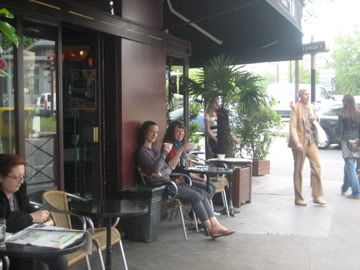 Under the big top: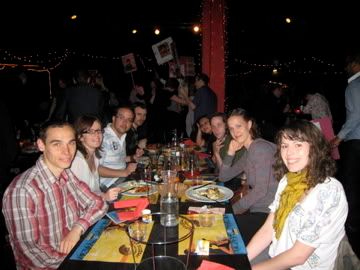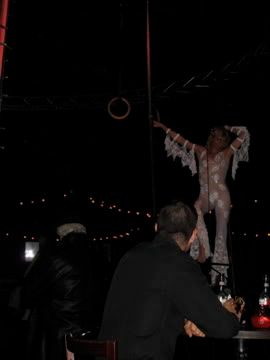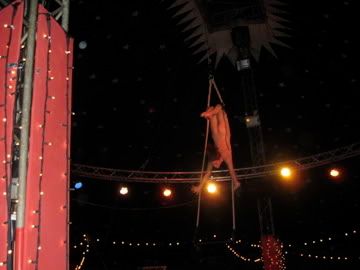 ASSORTED BUILDINGS AND LANDMARKS THAT ARE OLD (Paris edition)
Sacre Coeur in Montmartre: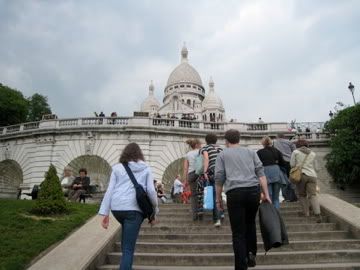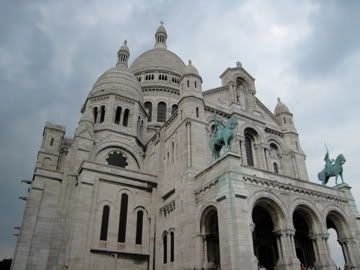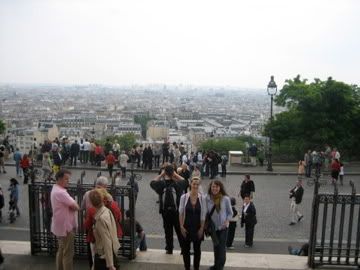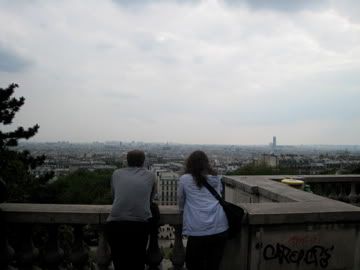 Notre Dame...total flying buttress fest: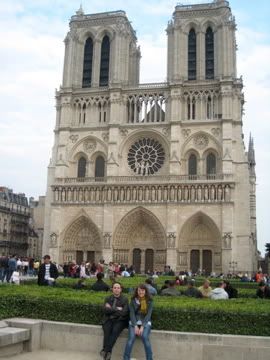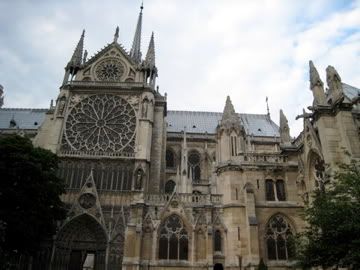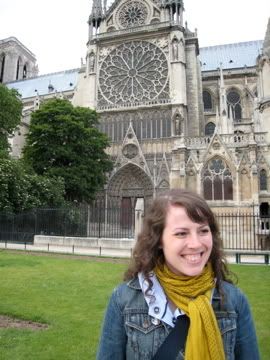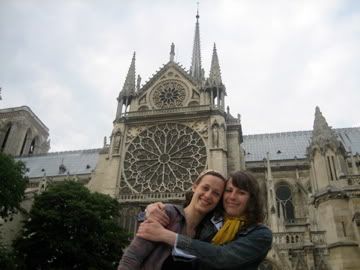 La Seine (avec cute Amanda!):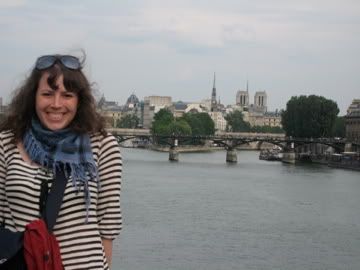 I forget what this one is called...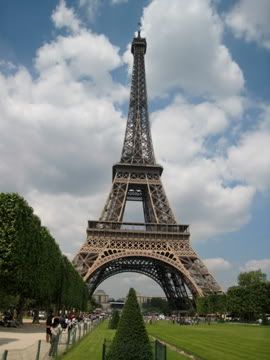 ...maybe Arc de Triomphe?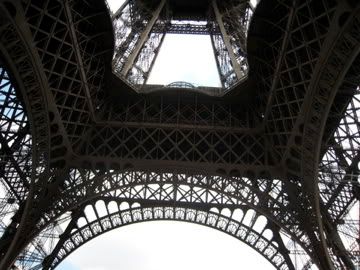 Who knows?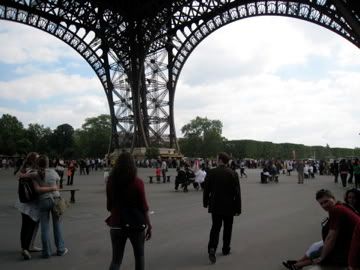 People seem to like it: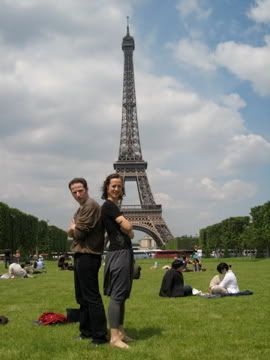 Rubber ducks outside Colette: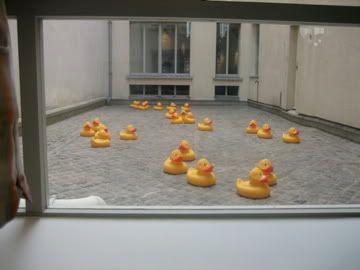 I always forget what this is too. I think it's like a nightclub or something: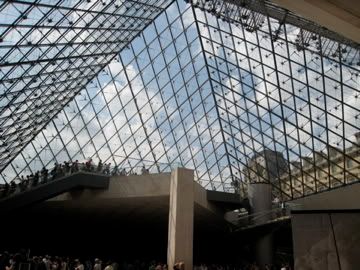 Versailles: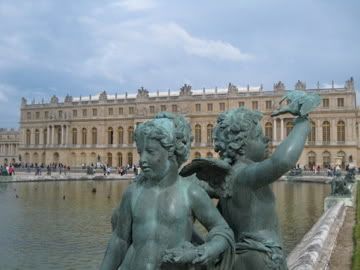 "L'etat, c'est moi!" Amanda's (and Louis XIV's) favorite phrase.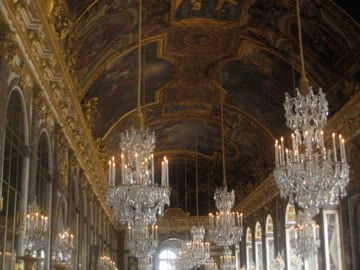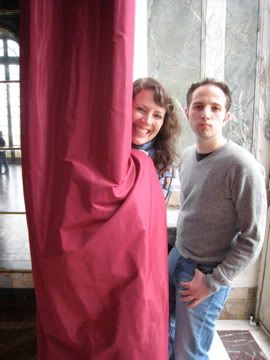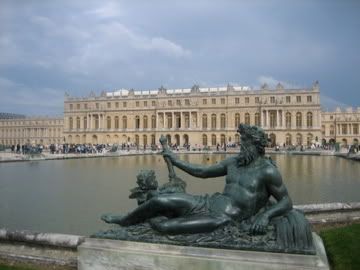 Gardens..."Eh, pretty good!":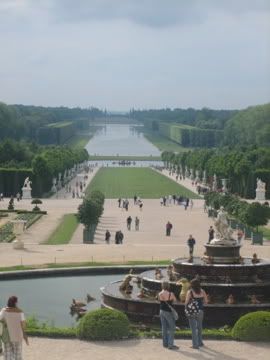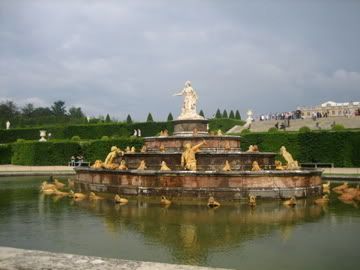 LAST DAY IN LONDON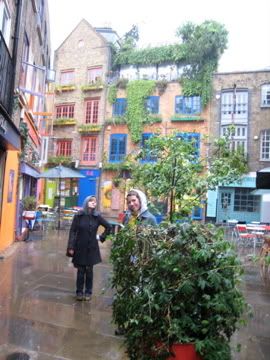 fin
..........