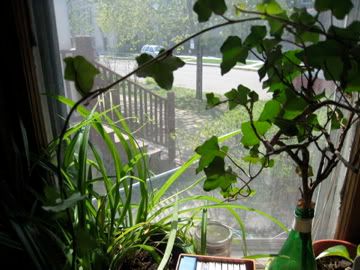 Friends: In a gesture of making something out of nothing, I am putting together a humble (handmade, likely stapled) publication about reemerging from Chicago winter. If you would like to participate (and I really hope you'd like), please send me something that has something to do with this theme: photo, essay, story, list, drawing, collage, review, mix cd (I will burn copies), etc., ad infinitum.
Topics and interpretations may include, but are not limited, to:
1) flora & fauna
2) field notes and field recordings
3) weather reports
4) trail maps
5) where in Chicago you find your "nature" fix
6) field trips in + around Chicagoland
7) mojito recipe (just kidding…no, not really kidding)
8) spring outerwear: the ongoing conundrum
9) things you do differently this time of year, or intend to do; things you don't do, or intend not to do
10) fictionalized conversation between baby bunnies
11) the hissing of summer lawns
Those are some just ideas—and semi-hokey ones at that!—but you can expand upon them, do something else, or make them hokier still. This is a low-pressure situation. If you want to contribute (deadline: May 13), email me at laurahelenpearson@gmail.com, and I'll let you know where to send whatever!
Pls. include your address, and after I put it all together, I will send you a humble copy through the mail. If you don't have time/interest, no worries, but feel free to spread the word to anyone who might be interested. (Also, if out-of-towners feel inclined to contribute, I'm fine with extending the theme beyond Chicago.)