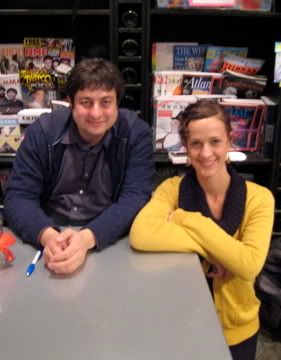 Eugene Mirman
came to the Book Cellar last weekend to talk about his new book,
The Will to Whatevs
. It includes indispensable tips on such real-world issues as how to make a baby cry more and how to talk to arrogant, radical college students. Needless to say, it was a Euge success.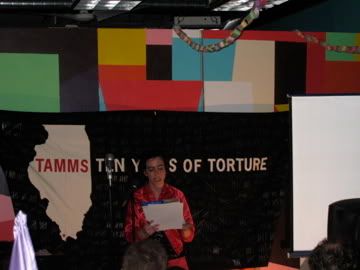 Also last weekend,
No Coast
hosted the final events of the Unlympics, which included (among other things) an eye-opening presentation on prison torture from
Tamms Year Ten
(one of many Chicago social justice campaigns that needs funding and support and does not need the city to be financially and emotionally absorbed in a "sporty mega event" such as the 2016 games), a jump rope competition, and maybe the most amazing karaoke performance I've ever had the privilege of witnessing: Matt singing R&B while Heidi seamlessly interpreted the song in dance...in floral print rollerskates.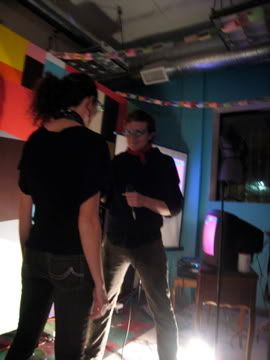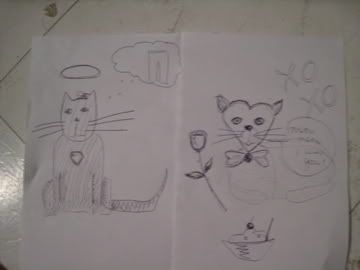 Heidi also led a game called "Telekinetic Synchonicity," in which we had to try to draw the same thing as a partner (without looking at his/her paper). We were supposed to draw *LOVE* and Anne and I ended up being pretty in sync. She drew a cat thinking of pants and I drew a cat with a heart-shaped face sitting near an ice cream sundae.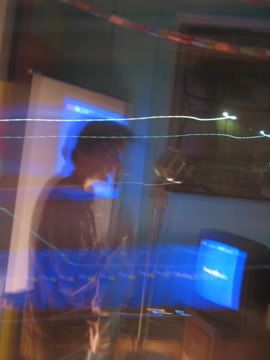 Bryce owned it.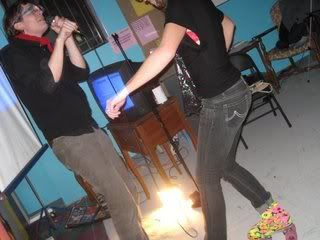 Loverzz. (Pic stolen from AEM.)
---
Also recently...High Places on WNYC's
Soundcheck
.
M and R
are currently in New Zealand, cavorting with hobbits. Poor babies!
---
Some
recent
Time Out
ness.